Bio / CV
Artist / Project Manager / Art Teacher / Curator
Mike "Bam" Tyau was born in Honolulu, Hawaii. He has been in connected with graffiti writing since 1983. He earned his BFA in graphic design at the Academy of Art in San Francisco, California. He has also worked a career with some of the world's best videogame & digital advertising companies.
Mike artwork has been featured with companies of Facebook, Google, Cisco, and Toyota. Besides California, he has painted large scale murals in New York, Chicago, Miami, Hiroshima, Barcelona, Otaki, New Zealand, Apia, Samoa, and returns frequently back to Honolulu to collaborate with fellow artists and students.
Mike currently enjoys teaching art part time at Design Tech High School, for Precita Eyes Muralists, and for the Estria Foundation Mele Murals program.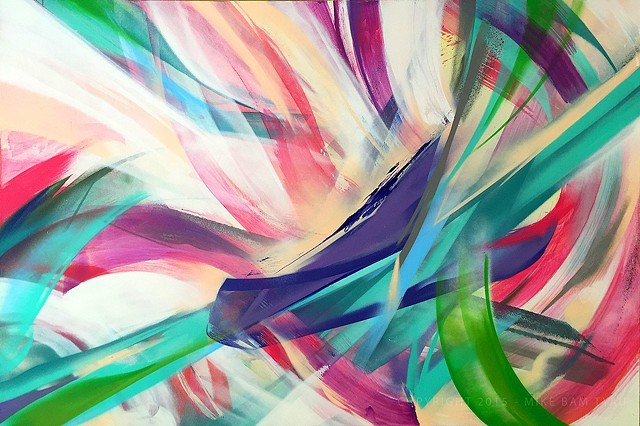 Youth Educational Work
• Design Tech High School, Intersession Mural Arts Teacher, Redwood Shores, CA 2018 - present
• Mele Murals Summer Program, Online Art Teacher, Ka u-Keaau-Pahoa Complex, HI - Jun - July. 2021
• Halau Paheona After School Program, Online Art Teacher, Honolulu, HI - Jan - May. 2021
• Kuhio Elementary School, Online Art Teacher, Honolulu, HI - Oct - Dec. 2020
• Mele Murals Summer Program, Online Art Teacher, Honolulu, HI - Jun - July 2020
• Mele Murals for Estria Foundation, Hilo High School, Hilo, HI - Oct. 2019
• Precita Eyes for St. Matthews Episcopal Day School, San Mateo, CA - Sept. 2019
• Precita Eyes Muralist for Thurgood Marshall Academic High School, San Francisco, CA 2019
• Serendipity Elementary School, Summer Youth Art Camp, Belmont, CA 2018
• California Arts Supply, Spraycan Art Class, San Mateo, CA 2018
• The Shop at Flywheel Press, Youth Art Camps, San Mateo, CA 2017
• Instructor 3D Printing, Peninsula TechShop, Redwood City, CA 2017
• Mele Murals for Estria Foundation and US Embassy New Zealand and Samoa for American Corner's "Turn a Life Around" reading program, Apia, Samoa - Mar. 2017
• Mele Murals for Estria Foundation and US Embassy New Zealand for Te Kura Iwi O Whakatupuranga Rua Mano school & Maoriland Film Festival, Otaki, New Zealand - Mar. 2017
• Guest Lecture at Burlingame Middle School, Burlingame, CA - Feb. 2017
• Guest Lecture at Stanford University, Art History Class, Stanford, CA - Nov. 2016
• Halau Paheona / School of Visual Arts after school program at Kaimuki High School, Honolulu, HI - Jan. - May. 2016
• Mele Murals / Estria Foundation, Honolulu, HI - Nov. 2013 - present
• Graffiti Art History / Spraycan Art classes, First Amendment (1AMSF) Gallery, San Francisco, CA - 2009 - 2016



Solo Murals
• Arts Commission City of Redwood City, CA - Nov 2021
• Facebook, Menlo Park, CA - May 2021
• Wulf Residence, San Jose, CA - Aug 2020
• El Cerrito Plaza Shopping Mall, El Cerrito, CA - May 2020
• Hannah Place for Riaz Capital, West Oakland, CA - Jan 2020
• Mariposa Shopping Mall, Santa Clara, CA - Jul 2019
• Wescover mural, Santa Clara, CA - Jan 2019
• Lunar New Year installation for Dragon School for Westfield Valley Fair Mall, Santa Clara, CA - Jan 2019
• Oakland Block Party event for XQ Super Schools, Oakland, CA - Sep 2018
• ICU Art for Stripe event, Pier 25, San Francisco, CA - Sep 2018
• ICU Art for Facebook Community event, Menlo Park, CA - Aug 2018
• SOMArts for Google, at Rincon 2 Building, San Francisco, CA - Aug 2018
• Santana Row, San Jose, CA - Jun 2018
• Ellie Mae, Pleasanton, CA - May 2018
• ICU Art for Umbrella Insurance, Emeryville, CA - Oct. 2017
• Hudson Properties, Inc., San Francisco, CA - May 2017
• Mele Murals for Estria Foundation for Te Kura Iwi O Whakatupuranga Rua Mano school and Maoriland Film Festival, Otaki, New Zealand - Mar. 2017
• "NoDAPL" mural - M5 Arts, Art Street exhibits, Sacramento, CA - Feb. 2017
• Knabb Family, Redwood City, CA - Jul 2016
• California Arts Supply, San Mateo, CA - Jul 2016
• FIS Mobile, San Francisco, CA - Dec. 2015
• Cisco Systems, San Jose, CA - Dec. 2015
• Intersection for the Arts for Hudson Properties, San Francisco, CA - Sep. 2015
• Hotel Zetta, San Francisco, CA - Jun. 2015
• Reddit offices, San Francisco, CA - Feb. 2015
• Tank 18 Restaurant & Urban Winery, San Francisco, CA - Feb. 2014
• Perez Family, Art Basel, Miami, FL - Dec. 2013
• Red Bull offices, Emeryville, CA - Mar. 2013
• Love Oakland Gallery, Oakland, CA - Nov. 2012
• Performance Options Auto Repair, Oakland, CA - Mar. 2009
• Elmhurst Community Prep school, Oakland, CA - 2007 - 2009



Collaborative Group Murals
• Mele Murals for Estria Foundation, Hilo High School, Hilo, HI - Oct. 2019
• Precita Eyes for St. Matthews Episcopal Day School, San Mateo, CA - Sept. 2019
• Support artist for Allison Toneros Tinati (Hueman) with Norman Vogue Chuck for AB Projects & Lyft, Oakland, CA - Aug. 2019
• Design Tech High School, Redwood City, CA - June - Nov 2019
• Precita Eyes for Home Owners Association 15th & Mission, San Francisco, CA - May 2019
• Precita Eyes for Thurgood Marshall Academic High School, San Francisco, CA - Apr. 2019
• 100 Block mural for Exhibition District / Local Color, San Jose, CA - Feb 2019
• Design Tech High School, Redwood City, CA - Oct. 2018
• Support artist for the Lab for artist Kat Lam Facebook Bldg 22, Menlo Park, CA - Aug. 2018
• Oakland Mural Festival with Jesus Rodriguez, Jack London Square, Oakland, CA - May 2018
• Mele Murals for Estria Foundation, Kanuikapono Hawaiian Public Charter School, Anahola, Kauai, HI - Apr. 2017
• ICU Art for Thomas Cambell; Santa Cruz Museum of Art & History; Santa Cruz, CA - Feb. / Apr. 2017
• "Art, Social Space, and Public Discourse," Stanford University & Jack London Square, Collaboration with visiting Iranian artist, Parham Ghaladar, Oakland, CA - Nov. 2016
• ICU Art for Barry McGee / Sites Unseen; City & County of San Francisco Municipal Transportation - Moscone Garage; San Francisco, CA - Sep. - Oct. 2016
• Mele Murals for Estria Foundation, Blanche Pope Elementary school, Waimanalo, HI - Apr. 2016
• Mele Murals for Estria Foundation, HPM Building Supply Hilo & University of Hawaii, Hilo, HI - Mar. 2016
• Mele Murals for Estria Foundation, Hawaii High School Athletic Association with students from Kaimuki High School, Honolulu, HI - Feb. 2016
• Mele Murals for Estria Foundation, Cathedral Catholic & Hawaii Buddhist Academy, Honolulu, HI - Sep. 2015
• Mele Murals for Estria Foundation, Kanuikapono Hawaiian Charter Public school, Anahola, Kauai, HI - Apr. 2015
• Wrist Shipping mural; collaboration with Norm "Vogue/TDK" Chuck, Brian Manaois, King157, Jase/BA, Sear/BA, Ernest Doty, Chris Kondo, Thitiwat Phromratanapongse, Thavin Rajanakhan, Dominic Cheng, Oakland, CA - Jul. - Aug. 2014
• Interior Mural; collaboration with Miguel "Bounce" Perez, New Parkway Theater, Oakland, CA - Nov. 2013
• PowWow Hawaii; collaboration with Mark Bode, John Prime Hina, Estria MIyashiro, Oscar Trek6 Montes, and Ian Kualii Fresh Cafe, Honolulu, HI - Feb. 2013
• Samoan Development Community Center; collaboration with Ruben "Like" Aguirre, South San Francisco, CA - Jul. 2012
• Vodafone; collaboration with Estria Miyashiro, Redwood City, CA - Mar. 2012
• PowWow Hawaii; collaboration with John Prime Hina, Estria Miyashiro, and Oscar Trek6 Montes, Jaguar Hawaii, Honolulu, HI - Feb. 2012
• Art Basel; collaboration with Montana Colors Street Team, Gansevoort Hotel, Miami, FL - Dec. 2011
• Water Writes series mural, Estria Foundation, Oakland, CA - Mar. 2011
• Primary Flight for Miami Art Basel; collaboration with Montana Colors Street Team, RC Bottling Co, Miami, FL - Dec. 2010
• Rebirth; collaboration with Montana Colors Street Team, Great Wall of Oakland at Grand & Telegraph, Oakland, CA - Oct. 2010
• Four Guardians; collaboration with Estria Miyashiro, Jose Garcia, Norman Chuck, Erin Yoshioka, Nancy Hernandez, Cece Carpio; City of Oakland, Oakland, CA - Jul. 2009
• Meeting of Styles, collaboration with Estria Miyashiro, Oakland, CA - Sep. 2008
• Elmhurst Community Prep school / Academy Alliance, collaboration with Estria Miyashiro, Oakland, CA - Sep. 2007
• East Bay Asian Youth Center, collaboration with Estria Miyashiro, Josue Rojas, and Jose Garcia, Oakland, CA - Sep. 2007
• Juvenile Justice Center with Estria Miyashiro, Josue Rojas, Faviana Rodriguez, and Oakland youth, Alameda County, CA - Jun. 2006


Solo Exhibitions
• "Na 'Aumakua", Cukui, San Jose, CA 2018
• Retail space for Mori Hawaii, Honolulu, HI - Apr. 2016 - present
• Diakadi, San Francisco, CA - Dec. 2015
• Live Lotus Yoga Studio, San Jose, CA - Oct. 2015
• Window Display for 42 Degrees for San Francisco Intersection for the Arts, San Francisco, CA - Sept. 2015
• Mark John Salon, San Francisco, CA - Mar. 2015


Group Exhibitions
• "RESPECT: Hip-Hop Style & Wisdom" Oakland Museum of California, Oakland, CA - Mar - Aug 2018
• "Freight State of Mind", duo show with Jesus Rodriguez for Art Primo SF, San Francisco, CA - Oct. 2017
• "Family First", First Amendment (1AMSF) Gallery, San Francisco - Jan. 2017
• Retail space for Mori Hawaii and gift shop at Hawaii State Art Museum, Honolulu, HI - Apr. 2016 - present
• "TDK Group Show," Oakland Terminal, Oakland, CA - Nov. 2015
• "Honey I Shrunk the Kids" Group Show, First Amendment 1:AM SF Gallery, San Francisco - Oct. 2015
• Complex Magazine x Nissan Pop Up, Firehouse, San Francisco, CA - Jul. 2015
• The Shop at Flywheel Press, San Mateo, CA - Jul. 2015
• Neologian Art Gallery, San Mateo, CA - May. 2015
• "Top of the Line," First Amendment 1:AM SF Gallery, San Francisco - Apr. 2015
• Claremont Studios, San Mateo, CA - Nov. 2014
• "The Denim Show," Oakland Terminal, Oakland, CA - Nov. 2014
• "Alphabet Show," White Walls, San Francisco, CA - May. 2014
• "Off the Wall," EC Galleries, San Diego, CA - Apr. 2014
• "Game On!," First Amendment (1AMSF) Gallery, San Francisco - Mar. 2013
• "Fast Forward," First Amendment (1AMSF) Gallery, San Francisco - Oct. 2011
• "The Classics," First Amendment (1AMSF) Gallery, San Francisco - Sep. 2010
• "Don't Sweat the Technique," First Amendment (1AMSF) Gallery, San Francisco - Sep. 2009



Curation
• Support curation for "Top of the Line" model scale train show, First Amendment (1AMSF) Gallery, San Francisco, CA - Apr. 2015
• EstriaBattle.com Group Print Show, First Amendment (1AMSF) Gallery, San Francisco, CA - Oct. 2013
• EstriaBattle.com Kickstarter event, Estria Foundation offices, Emeryville, CA - May. 2013
• "Composite Knowledge" Group Show, Art "Poesia" Flemate(San Jose), Sam Rodriguez(San Jose), Jaybo Monk(Berlin), First Amendment (1AMSF) Gallery, San Francisco, CA - Oct. 2012
• "Fast Forward" Group Show, Art "Poesia" Flemate(San Jose), Scott Sueme (Vancouver), Suiko (Hiroshima), Mike Bam Tyau(San Francisco), First Amendment (1AMSF) Gallery, San Francisco, CA - Oct. 2011
• Adidas Shoe Auction, various EstriaBattle artists, ShoeBiz, San Francisco - Oct. 2009
• "Don't Sweat the Technique" Group Show for EstriaBattle.com, First Amendment (1AMSF) Gallery, San Francisco - Sep. 2009


Publications and Documentary
• "The History of American Graffiti" by Gastman & Neelon - Interview - Apr. 2011
• Piece By Piece; Documentary Film, 2006


Selected Corporate Clients
• Adidas
• City of Oakland
• Complex Networks
• Ellie Mae
• Facebook
• Google
• Hudson Properties
• McKesson
• Montana Colors North America
• Nissan
• Red Bull USA
• Regency Centers
• San Francisco Arts Commission
• San Francisco Intersection for the Arts
• San Francisco Municipal Transportation Agency
• Santa Cruz Museum of History and Art
• Santana Row
• Sega of America
• Sony Interactive Entertainment
• Stripe
• Toyota
• Vodaphone
• Westfield Group